Drink
Helsinki is a heaven for people in love with quality craft beer. The selection in the city covers nowadays products from several dozens of local Finnish microbreweries as well as from an endless list of international ones. As long as you know where to look for them…
The same goes for quality coffee, since Finnish people drink more of this black nectar than anybody else in the world! That's why we have created a coffee hop tour for you to get a sip of this part of the Finnish culture that we love so much!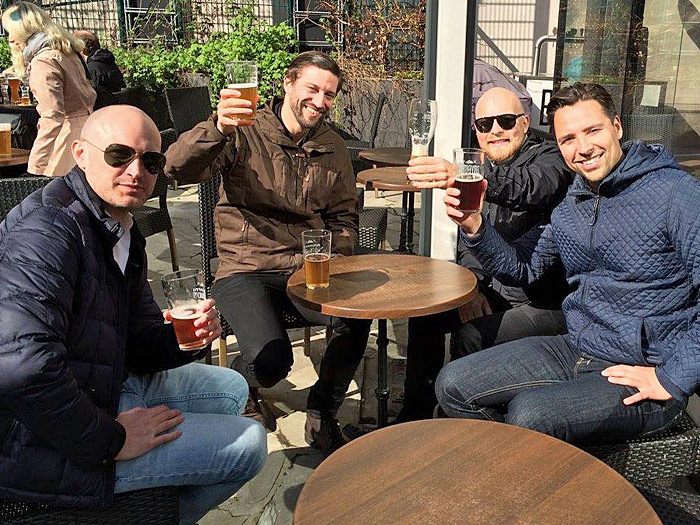 Beer & Helsinki
Helsinki, "the White City of the North", has a lot to offer. This tour will combine sightseeing with a local favorite: beer! 
We can imagine what you might have heard about Finnish drinking habits, but this is not a bar crawl. Quite the contrary: Finland has a lively microbrewery and craft beer scene, with passionate brewers that put all their effort into making really good quality beer. We will spend from three to four hours exploring the city and its sights from the historical center around the Senate Square and Esplanadi boulevard to our modern center Kamppi – and in between, we have two stops at local breweries, where you will get to sample their specialties and hear their part of the story.
And in case if you don't like beer, we will be happy to substitute it with ciders or non-alcoholic beverages for you. Please let us know in advance! 
Please note! The age limit for this tour is 18 years for all participants.  
TIME: Every Saturday at 4 pm / 16.00 hs | With a reservation by 9 pm on the night before (at the latest!)
DURATION: 3-4 hours
PRICE: 50 euros per person >>> including your guide, two tasting trays with 3 to 4 beer samples each & a snack!
GROUP SIZE: 2 to 10 people (If you are alone, ask anyway, since there might be already other bookings!) 

MEETING POINT: The Main Tourist Info Office of Helsinki in the street address of Pohjoisesplanadi 19. Look for a guide with a Beer & Helsinki sign!
See on TripAdvisor >>
Click for the location on Google Maps >>
Reservations by 9 pm on the night before (at the latest)!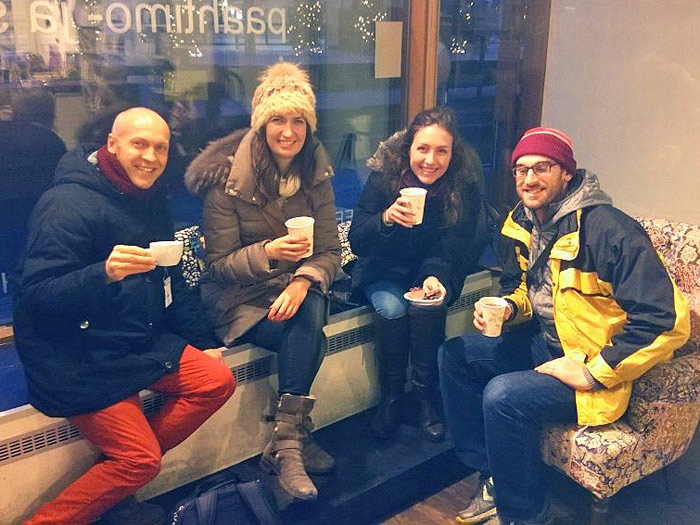 Helsinki Coffee Hop
The Finns are famous for their coffee consuming. There is no other country that downs more cups a day than our Nordic nation! On this tour you will get a deep dive into the Finnish coffee culture and the city life of Helsinki. 
We offer you no less than four different kinds of coffees ‒ the minimum portion that an average Finn drinks to get the day going. With that amount of caffeine you will probably keep hopping the rest of your stay in Helsinki! We will also introduce you to some historical sites as well as the Design District Helsinki. 
The walks between the stops are slightly longer, about 15 minutes, but the coffee will keep you warm and happy just like the lovely places we will visit. You will also have an opportunity for shopping of special coffee products at all the four stops!
TIME: Every Monday and Friday at 10 am | Every Wednesday at 2.30 pm
With a reservation by 9 pm on the night before (at the latest!)
DURATION: 2-3 hours
PRICE: 35 euros / person >>> including your guide + four different kinds of portions / cups of coffee 
MEETING POINT: At the main doors of Paulig Kulma café/roastery /barista institute in the street address of Aleksanterinkatu 9. The main entrance on the street is in the corner of the streets of Aleksanterinkatu and Kluuvikatu. Look for a guide with a sign Happy Guide Helsinki.
Paulig Kulma on Paulig Group's website >>
Click for the location on Google Maps >>